So you've made it to VTR Learning. What's next?
If you need some ideas of where to get started, check out some of the following steps!
Find Your Organization
Our home page can direct you to many helpful places on our site, but if you want a more specific look at what VTR Learning offers for your organization, there are a few places you can go.
This page will introduce you to some of the things that VTR Learning has to offer professionals with CPA CPE recertification needs.
The HR Self-Study page will give you information about and direction to different resources on VTR's website for professionals needing CEUs and/or PDCs.
Double-check the APA Self-Study page to see how VTR Learning can help you earn your RCHs for FPC and CPP certifications.
You can check out this page to view specific information about our accreditations with the American Payroll Association, the American Society of Association Executives, the Human Resource Certification Institute, the National Association of State Boards of Accountancy, and the Society for Human Resource Management.
Check Out the Shop
There are several places that can take you to the shop. You have the option of viewing all courses or using filters help narrow your search. Here are some of the places you can view those.
Our Courses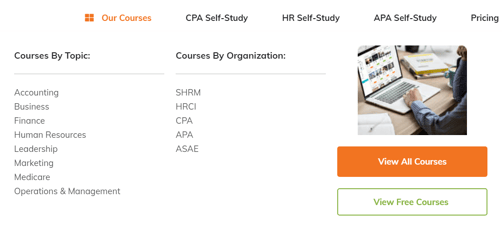 As you can see, there are many options to choose from to view courses. You can filter by topic, organization, free courses, or simply view all.
Home Page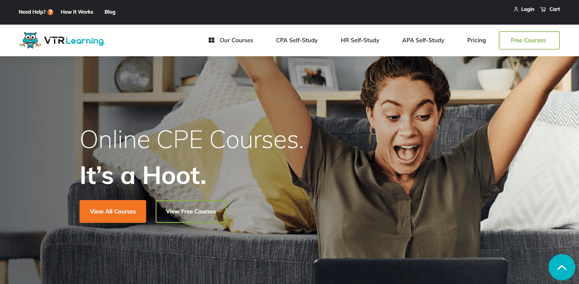 When you navigate to the home page, you will have several options, as you scroll, to go to the shop. Once there, you can continue your search for the right course for you!
The Shop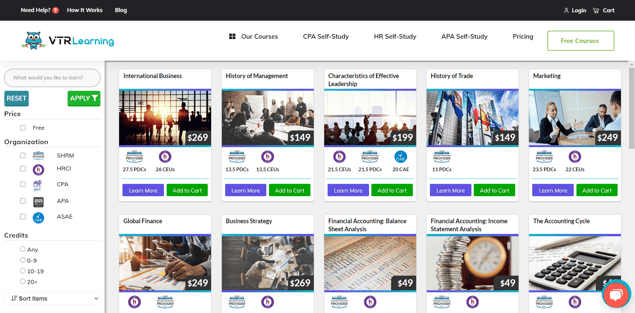 All course items are listed in our unfiltered shop. To filter your view, just look to the navigation bar on your left.
To search for a course, enter the term you want to look for, then click "Apply".
To filter by organization or credits, just choose the options you would like to filter by, and click "Apply".
If you would like to sort your courses, just choose from the options available, then click "Apply".
If you would like to clear your search/filters/sorting preferences, simply click "Reset."
Take a Look at Specific Courses
When you've made it to our shop and used the filters, you'll see a list of courses, reflective of the options you're looking for. When you find a course you'd like to explore more, simply click "Learn More."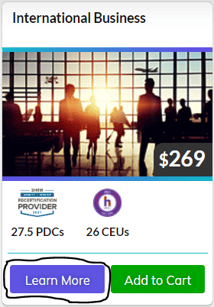 This will take you to the product details page where you can view the course description, learning objectives, credit amounts, recommended courses, and more.
Caitlyn is the Office & Accounts Administrator at VTR Learning. She enjoys project planning and bringing ideas to the table in order to produce creative solutions that help add to her team's goals. In her spare time, Caitlyn loves to travel with her husband and son, listen to podcasts, play board games, discover new hobbies, and she loves Disney Villains (Ursula is her fave ❤).