We are excited to show you around our new rewards program so you can get the most out of your experience with us. We will cover:
So let's get started!
Earning Your Points
Registration
Simply registering for an account on our site will now give you 25 points towards the rewards program.
If you enter your recertification date when registering or after (for the first time only), you will earn 25 points.
After Registration
This is where even more fun begins!
Take the orientation course to learn more about our platform. Once you've completed it, you'll earn an extra 25 points.
Buying a Course
You will receive 1 point per dollar spent for each course you purchase.
For courses you complete, you will receive 5 points per credit hour (including free courses!). For courses with multiple types of credit hours, points will be rounded up to the highest credit amount listed.
Referrals
Share your love of VTR Learning with referrals!
When you refer a friend and they use your referral code, you will earn 25 points!
If you refer a friend who makes a purchase greater than $0, you will earn 50 points!
Point Rewards
So what do I get with these rewards? We're glad you asked! Below is a chart of how you can spend your rewards. For paying customers, you will have the option of choosing between redeeming points for in-shop rewards or claiming a gift card of your choice.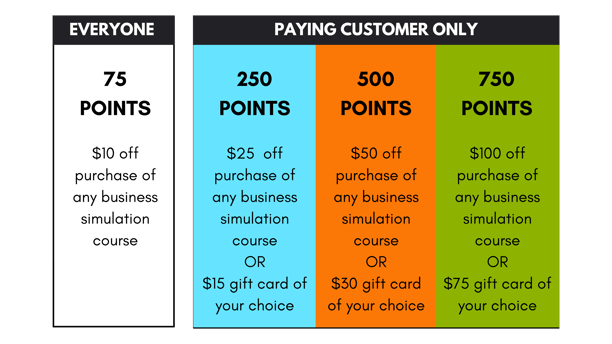 Redeeming Rewards
To redeem your rewards, go to your rewards page.
Here you will see the points you have been awarded.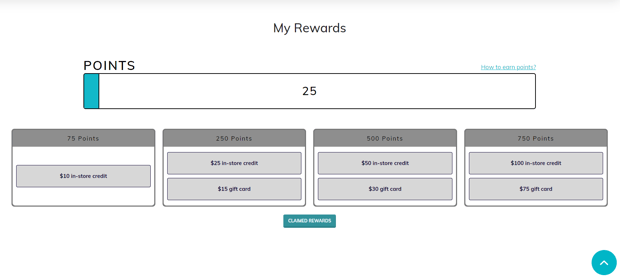 When you reach a tier, the awards available to you will be highlighted.

To redeem, click the reward you would like to have applied. When you have clicked it, a pop-up will appear asking if you would like to claim your rewards.
When you choose the yes, click the "Claimed Rewards" button under the rewards tiers.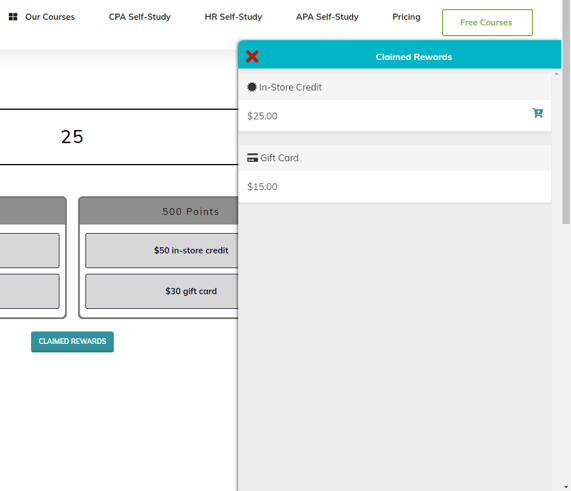 When you choose to claim a gift card, we will send it to your email through Tremendous. The email will look a little bit like this.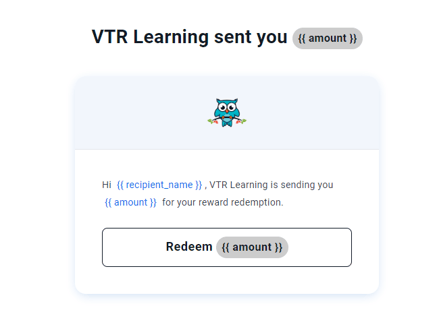 When you choose to redeem in-store credit, click the shopping cart icon to add the redemption to your cart. The cart icon will change to a checkmark, and you will see the quantity in your cart update accordingly.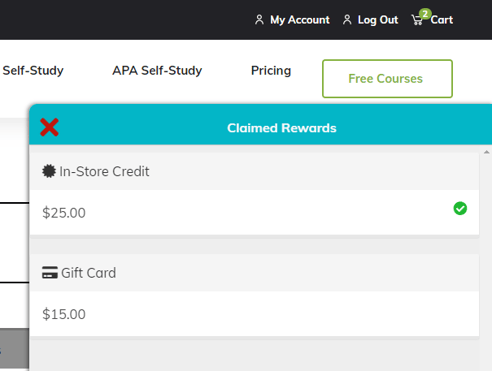 When you go to your cart to checkout, the discount will be applied.
You will still be able to use promo codes if we are running a savings event, so you can stack the reward and promo for more savings.
We are excited to offer these rewards for all of our users. As always, if you have any questions you can check out our Knowledge Base, start a chat, or email us at support@vtrpro.com. Happy learning and happy earning!
Caitlyn is the Office & Accounts Administrator at VTR Learning. She enjoys project planning and bringing ideas to the table in order to produce creative solutions that help add to her team's goals. In her spare time, Caitlyn loves to travel with her husband and son, listen to podcasts, play board games, discover new hobbies, and she loves Disney Villains (Ursula is her fave ❤).