There are few things more difficult for small businesses to handle than being held to the standards of industry giants. All too often I find myself having to defend small businesses when the armchair critics come out to berate businesses that don't do as the self-righteouscorporations do. Now don't get me wrong as I'm all for championing a healthy work life balance as well as the ethical treatment of employees. What irks me is when statements are taken at face value, and apple to apple comparisons are made between apple and oranges. In this case, large and small businesses.
Too Good to Be True
Take for instance how vacation policies are being promoted and envied these days by outsiders. You hear all too often about how Uber, Facebook, Google, and many other new-age behemoths have adopted an Unlimited Paid Time Off policy. That sounds great on the surface, but realistically this is nothing more than a marketing tactic used to attract applicants. In reality, those that have the luxury of enjoying a policy such as unlimited PTO take little to no vacation due to the competitive nature of the job. The 2018 State of American Vacation research report points out that there were 705 million unused paid vacation days in 2017. That is up from 662 million in 2016. If you divide the figure from 2017 by 126 million, which is the estimated number of full-time employees in the US in 2017, you get approximately 5.6 unused days per person. That means that the average full-time employee is working an extra week every year. Employers must remember the importance of vacation when considering paid time off policies.
Dangling a Carrot
So why are employment policies like this advertised if they're never utilized? Think about it; there's only so much money a business can offer to attract the highest caliber talent pool to the table. When the pay offered has met its limits it's time to start thinking outside the box on what can be offered. Sure, you can always hope that candidates will apply because they like the people and it's a cool place to work. However, this isn't going to suit everyone. So why not offer a very appealing benefit that management knows will never materialize? That is the genesis of Unlimited PTO. The reason it is believed that this type of policy will not be abused if even utilized at all is because of herd mentality. The key to climbing the corporate ladder is to outperform your peers. So long as at least one employee puts in 60+ hour weeks on the reg and never takes a day off then eventually that will be accepted as the norm by all employees who aspire for the coveted C-suite status.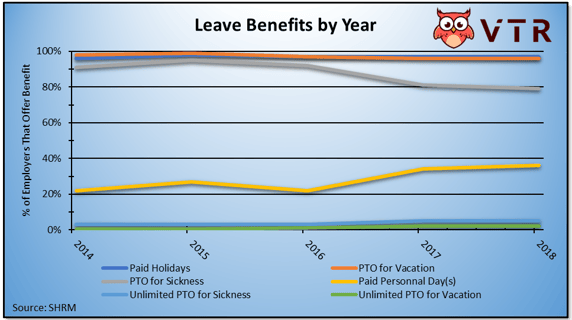 However, despite what you may be hearing or possibly hoping for, the Unlimited PTO philosophy is not very widely accepted. Perhaps due to the unethical nature of dangling a proverbial carrot. According to the Society for Human Resource Management's (SHRM) 2018 Employee Benefits survey, only 2% of employers offer Unlimited PTO. However, this practice is slowly becoming expected of every employer as more and more people learn about the industry giants use of it. The problem arises when small businesses are treated like large businesses and are expected to provide benefits of this nature. Let me paint a picture for you. A large business with 100 employees offers this benefit. It goes well, but one new hire appears to be abusing this policy. The reduces the workforce by 1%, and that workload can be easily spread among the other employees. That employee can also be terminated with negligible losses incurred.
Small Businesses Suffer
Now imagine the same scenario except with a small business that only has ten employees. If one employee begins to abuse this policy that amounts to 10% of your workforce. Of course, terminating the individual is an option, but that would leave you short staffed and require substantial time allocated to finding, on-boarding, and training a new hire. It's an important factor of Human Resources. When it's all said and done, we as a society need to do a better job at making apple to apple comparisons. This means taking into account all pertinent variables, not just one or two. Because when we base expectations of apples on the data from oranges, somebody's going to get left with a sour taste in their mouth.
To learn more about Paid Time Off and other important benefit policies, consider taking one of our Human Resources: Promoting Organizational Success course for HRCI/SHRM, CPA, or APA credits to learn more about these necessary skills.
Vaughn is the CEO of VTR second, and a loving husband/father first. He took control of VTR in 2016 when he saw a platform and associated content that was not being utilized to it's full potential. He has always had a passion for learning and wanted to provide the masses a low cost means to study the building blocks of running a business. VTR was born from this passion. Seeing that only MBA programs offered the knowledge that everyone deserves to know, he took an online MBA program and put a team in place that could scale down the courses in to bite-size chunks that everyone could afford to pursue. Thanks to a dedicated team VTR continues to grow and hopes to one day be the go to for Continuing Education needs.