In this article, we will show you how to check your students progress and grade assessments.
To view progress:
On the Instructor Dashboard, click the appropriate course panel.
After the course panel opens, find the student you want to view or grade.
Under the individual student, click the green % icon.
Under Individual Stats, each completed section will be indicated with a green check mark.
Use the drop down menu on the right to change modules.
To grade an assessment:
Under Individual Assessment, click Module Answers
Under Module Answers,
click either "mark as correct" or "score answer" with feedback
Individual Stats: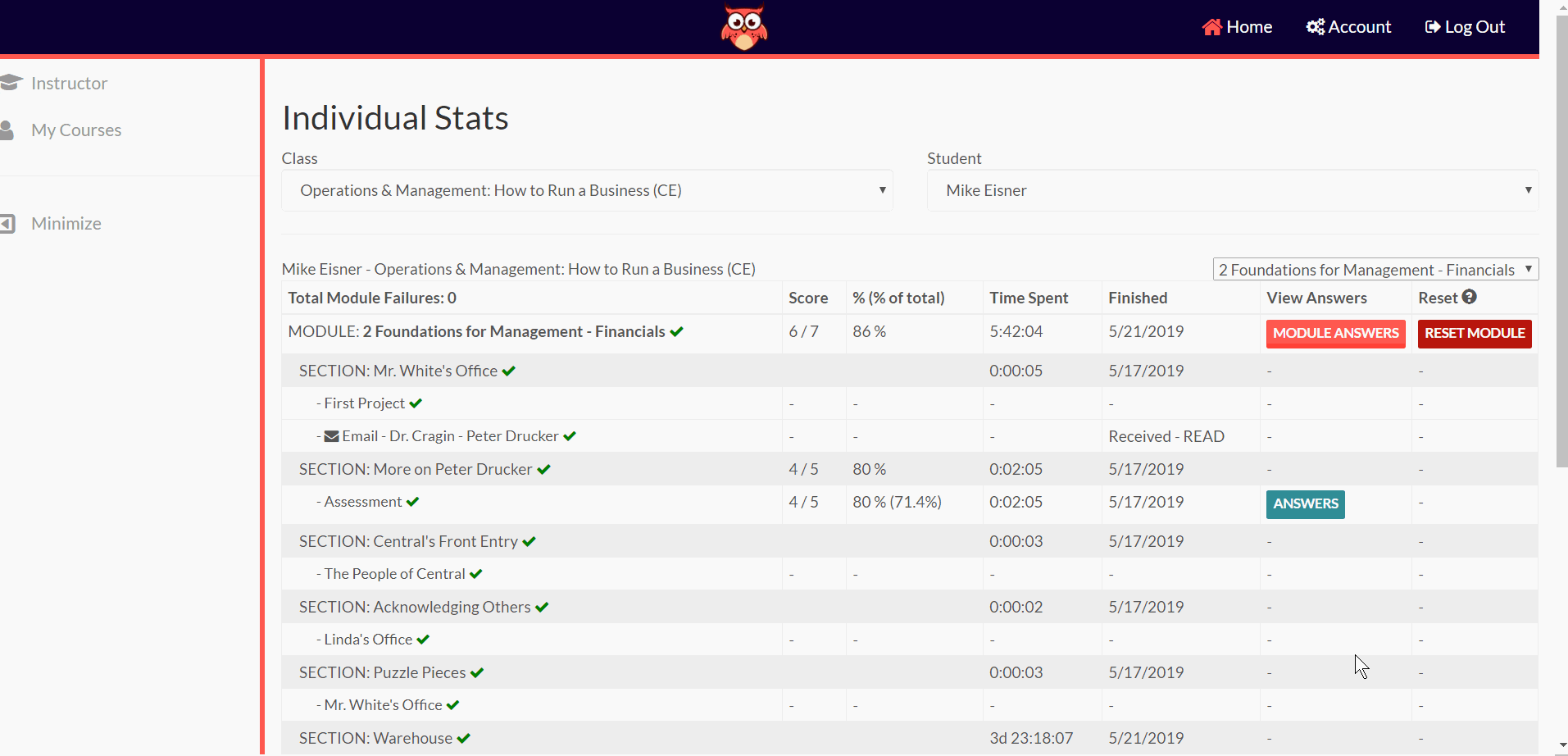 The individual stats page only displays one module, for one student, at a time. Using the drop-down menu, you can change the class, student and module you are looking at.
Each row on the Individual Stats page represents a Section or a Page within the Module (listed at the top).

Columns (from left to right):

Score: The score for each section.
% (% of total): The percent they scored for each section.
Time Spent: The time spent on each section.
Finished: The date that section was completed.
View Answers: Takes you to the module answers page
Reset Module: Allows you to reset the module for the student to retake.
Module Answers:
Subjective/Objective: you can choose to view both subjective and objective questions simultaneously or separately.
Subjective questions: You will see the question, the student's answer, and also have a section to provide feedback for that answer. You will be required to assign a score for each subjective question and for every file upload. To save feedback and points assigned click "send" or "Score Answer."

Objective Questions: You will see the question, the correct answer, and the student's answer. You will also have the ability to mark the question as correct for credit.