I remember my first run-in with the beast known as continuing education requirements. It still feels like yesterday, albeit the experience lasted several years. I wasn't too far into my career before I realized that, if I was going to compete in the job market, I was going to need something to help set me apart from my peers.
Despite already having a college degree, I knew my resume needed to boast more education. That's when I decided to pursue my first professional designation. It took me almost a year of preparation to get to the point where I felt comfortable sitting for the exam. Despite how much I had prepared, I was still nervous at the thought of failing and having to re-sit, which, of course, would mean paying all of the fees again. Fortunately, I managed to meet the passing threshold of the exam and, soon thereafter, receive the professional designation I'd been longing for.
Continuing Education Requirements
Unfortunately, I came to find out the hard way that the job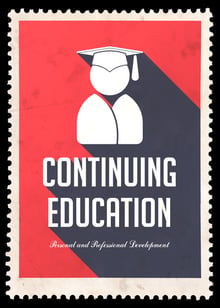 wasn't over after the certification exam. Even though I'd previously been made aware of the continuing education requirements I would be responsible for meeting on my own time in order to maintain my status of good-standing with my beloved organization, I was too preoccupied with the entrance exam to be bothered with what came next.
Several months of carefree living went by after the exam. This gave me time to catch up on some of the finer things I'd been missing out on due to the exam prep. Life was good and looking better every day. That is, until one day when I remember a thought coming to me that took the wind out of my sails: I had completely forgotten about my continuing education responsibilities!
I still had plenty of time to meet the requirements, but the thought of doing more work just left me a little demoralized. I remember thinking how annoying it was that I had to continue to do work simply to maintain a designation I had already worked hard to earn in the first place.
However, I still had a solid amount of time remaining to submit my hours, so I didn't feel like troubling myself with more unpaid work. This cavalier attitude toward my continuing education responsibilities remained with me for quite some time and it quickly became toxic. I could never relax, no matter how much I managed to accomplish at home and work, because I knew that I always still had my CE to do. It was the proverbial monkey on my back that I couldn't get off.
It's embarrassing to admit, but I procrastinated doing my CE right up until I only had a month left to submit all my required hours. That's when life became miserable. I had to give up so much in that month so that I could focus on obtaining CE credits. What made matters worse was that all of this backbreaking work I was exhausting myself to address would only end up maintaining the status-quo for me. I wasn't going to get any special recognition or advanced designations. I would just end up where I started.
Feel Relieved Upon Completion
I felt like I worked just as hard to stay positive as I did obtaining credits, which was just as important to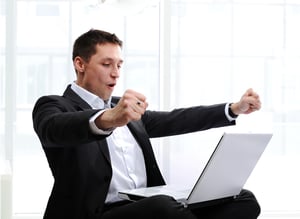 accomplish the task at hand. It was a good thing I had the support of my friends and family because in the 11th hour, I was able to finish and submit all of my required CE credits. The feeling that rushed over me after finishing such a daunting task is hard to describe, but I'm sure you've felt it before. I remember feeling this weight lift off of me. It was complete and utter bliss. I could see all the joys of life that lay ahead of me now that I had this behind me. I felt like the world was my oyster again.
It was soon thereafter that I swore to adhere to a monthly schedule of obtaining CE credits, so that I would never end up in that situation again. I made sure the monthly routine would be realistic and, if I stuck to it, I would have my CE done with months to spare. That gave me a buffer if some months got away from me and I missed my quota. In the end, the schedule and life lesson served me well. Since then, I have never found myself rushing to finish my CE requirements in the last month.
I hope my story has helped you realize that what you're going though is not unique to you. I've been there before, and I just wish I'd had someone to help guide me through the perils of continuing education requirements. This is why we created VTR, to help provide guidance and peace of mind to those that are in the same shoes.
If you wish to read more, here are the top three options for earning continuing education credits.
Vaughn is the CEO of VTR second, and a loving husband/father first. He took control of VTR in 2016 when he saw a platform and associated content that was not being utilized to it's full potential. He has always had a passion for learning and wanted to provide the masses a low cost means to study the building blocks of running a business. VTR was born from this passion. Seeing that only MBA programs offered the knowledge that everyone deserves to know, he took an online MBA program and put a team in place that could scale down the courses in to bite-size chunks that everyone could afford to pursue. Thanks to a dedicated team VTR continues to grow and hopes to one day be the go to for Continuing Education needs.